Troubleshooting Guide
Welcome to the LuDela Family!
We want your experience with LuDela to be a magical one! So
please
read this troubleshooting guide fully.
For a Video Tutorial on Getting Started or Troubleshooting:
Getting Started with LuDela (3 minutes): 

Watch Video

Troubleshooting Video (5 minutes):

Watch Video
For a Quick-Start Setup Guide:
LuDela Quick Setup Guide: Open Here
In some cases, it may be necessary to make some quick adjustments to your LuDela Candle before operation to ensure flawless ignition. Before you begin using your LuDela, please make sure you follow these important steps:


1. 
Fully Charge LuDela Candle: 
Using the enclosed charging cord, charge your candle until the red light changes to green.
2. 
Remove Remote-Control Battery Tab
:
Pull the small clear plastic piece out of the remote-control battery cover.
The remote will not function if the tab is not removed.
3. 
Use Correct Button Sequence on Remote-Control
: Follow this 'locking remote' sequence, which is also printed on the back of the remote. You must follow these two steps every time you light your candle: 
Select your desired run time by pressing one of the four numbered hour buttons.
Then, press and hold the 'On' button for up to 5 seconds.
Press the remote-control buttons slowly and specifically: Use the tip of your finger or your fingernail to select the desired buttons separately, one at a time. Avoid touching two buttons at once.
4. Point Remote-Control at the Sun Logo: Aim remote-control at the 'Sun' logo that is embossed into the front bottom of the wax candle. This is where the remote receiver is located inside the candle. The remote works within a range of 15 feet.
5.
Check Ignitor Wires
: - Check to ensure the ignition wires are angled upwards toward the wick and not directed at the metal ring just below the wick. If they are not angled correctly, use a small durable sharp object to bend the wires into the correct location. Wires should appear as shown in the photo: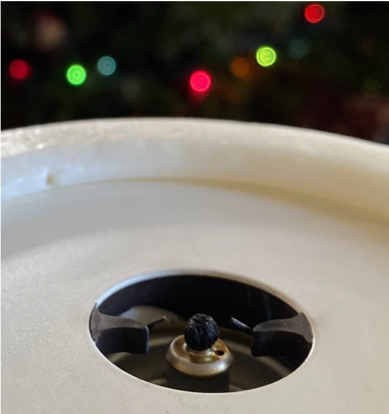 6. Clean the Ignitor Wires: After extended use, the ignitor wires can get corroded. To resolve this issue, remove the Liquid Paraffin Cartridge and then clean the ignitor wires with a cotton swab and rubbing alcohol to remove any buildup.
For additional questions or if your unit still won't work properly please email us at Hi@LuDela.com or call 855-5-LuDela.